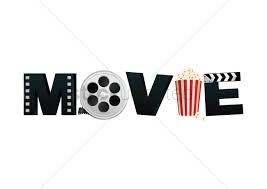 Chinese moviegoers largely forwent American blockbusters for local productions. On the world stage, Chinese films also got a boost from broader global distribution both in theaters and via streaming platforms like Netflix.
    Ranging from comedies to animations, and action movies to deep dramas, these best Chinese movies have not only won the hearts and minds of the Chinese people, but also many viewers around the world.
     China and the US haven't exactly been on the best of terms in 2019. Chinese sci-fi comedy Crazy Alien reflected that in a humorous way. The film has America make first contact with an alien, only to let the alien fall into Chinese hands. A Chinese monkey trainer then takes in the alien (thinking it's an exotic monkey species) to humorous results. Meanwhile, American forces try to capture the alien asset.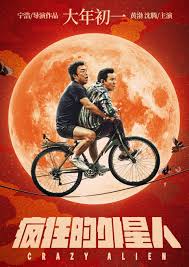 While Crazy Alien never ventures beyond slapstick humor, the film is still fairly entertaining. As long as you don't mind humor at the expense of American pride, Crazy Alien delivers laughter by poking fun at American cultural tropes—ranging from a belief in American superiority on the world stage, to clandestine violations of other nations' sovereignty.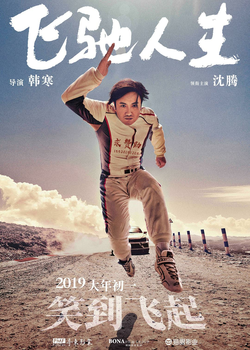 Fans of Chinese movies and petrolheads will delight at Pegasus, popular author Han Han's latest cinematic effort. At the center of Pegasus' redemption narrative is Zhang Chi (Shen Teng of Goodbye Mr. Loser), a former rally car racing champion who just emerged from a five year driving ban for illegal street racing. His life in shambles, Zhang hopes to redeem himself in one last rally competition.However, Zhang Chi has to surpass numerous hurdles ranging from getting his driver's license back, to building a rally racing car for his competition. While none of these challenges are particularly burdensome, they do provide a good amount of body to the plot of the film. Ultimately though, Pegasus is more about motoring entertainment than dramatic value.
    When most moviegoers think of animated films, they usually think of Disney, or the Japanese anime industry. This year, Chinese hit animated movie Ne Zha showed audiences that China's animation industry packs a punch as well. The story of Ne Zha is based on an eponymous deity from Chinese folk religion. However, while the movie draws heavily from the Chinese legend of Ne Zha, it ends up being a much more light-hearted and family-friendly story that omits the gory details of Chinese folklore.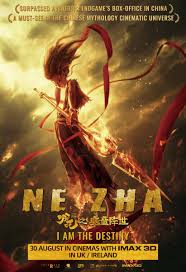 At its core, Ne Zha tells the story of an unruly child (named Ne Zha) who is possessed by a demon spirit. His upright parents attempt to keep Ne Zha from causing too much chaos, but largely fail in keeping Ne Zha from terrorizing local villagers. Ne Zha ultimately tries to redeem himself by battling against a truly evil force alongside his fellow villagers.
     Perhaps owing to a mix of patriotism among Chinese movie-goers, and the relative lack of competition this summer, Ne Zha smashed box office records. It's now not only the highest-grossing animated film in Chinese history, but also one of the top movies across all genres. A Communist Party mouthpiece even published a piece asking party cadres to "channel [their] inner Ne Zha."
    China was one of the first nations to proudly proclaim that "women hold up half the sky." While the People's Republic of China still lags behind in some aspects of women's rights, the 2019 film Send Me to the Clouds was an apt movie for a nation keen on improving its feminist credentials. Send Me to the Clouds tells the story of Sheng Nan's quest to have a "mind-blowing" sexual experience before she undergoes surgery to cure ovarian cancer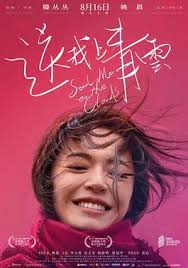 .
    Send Me To The Clouds contains ample commentary about the social pressures Chinese women face. While the pursuit of "mind-blowing" sex is the basis of the film's plot, the majority of the film concerns itself with gendered social expectations—male and female alike. The men in Sheng Nan's life pursue materialism to gain the respect of their family members, while Sheng Nan herself struggles to carve out her own meaning of life independent of her mother's expectations.
    If you watched The Last Sunrise, you wouldn't have guessed that it was shot in 14 days on a budget of US$250,000. In his first feature film, director Wen Ren deftly utilizes every ounce of resource to deliver an extremely thoughtful and touching narrative about two people trying to survive the end of the world.The Last Sunrise is set in a future China that is entirely powered by solar energy. One day, the sun mysteriously disappears, throwing China (and presumably the rest of the world) into complete disarray. Amateur scientist Sun Yang teams up with his neighbor Chen Mu to try to survive in a post-apocalyptic world. The Last Sunrise also grapples with some tough moral decisions for the pair, artfully depicting the cruel reality of survival without passing judgement on the duo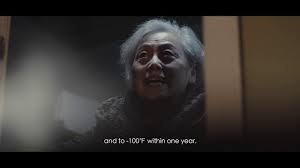 .
    Science-fiction is generally known for its big, fantastic visuals—think Blade Runner 2049, Interstellar, Arrival, and even The wandering Earth to name a few. The Last Sunrise defines its own sub-category, one that capitalizes on gentle, subtler moments to highlight the dynamics between its two protagonists. Science fiction rests mainly in the background, a sky full of stars that envelops our protagonists along their route.
The Wild Goose Lake

So Long, My Son

Dwelling in the Fuchun Mountains

The Wandering Earth

Better Days
Resources: 
cinemaescapist