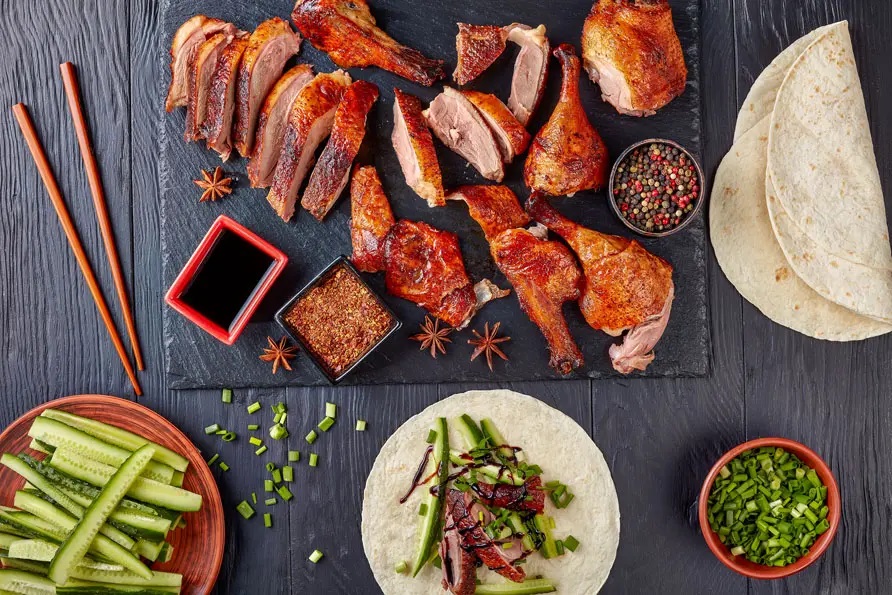 Shrimp with Vermicelli and Garlic
Shrimp with vermicelli and garlic (蒜蓉粉丝蒸虾 suànróng fěnsī zhēng xiā) is a dish not only favored by foreigners but also the Chinese younger generation in recent years as well.
This steamed dish brings out the aroma of everything it has. The heavy garlic with a seafood sauce flavor blends with the freshness of juicy shrimp. The vermicelli at the bottom absorbs every single drip of tasty juice running down. Some Chinese yellow wine to capture the aroma and highlight the flavor is the secret to this delicacy.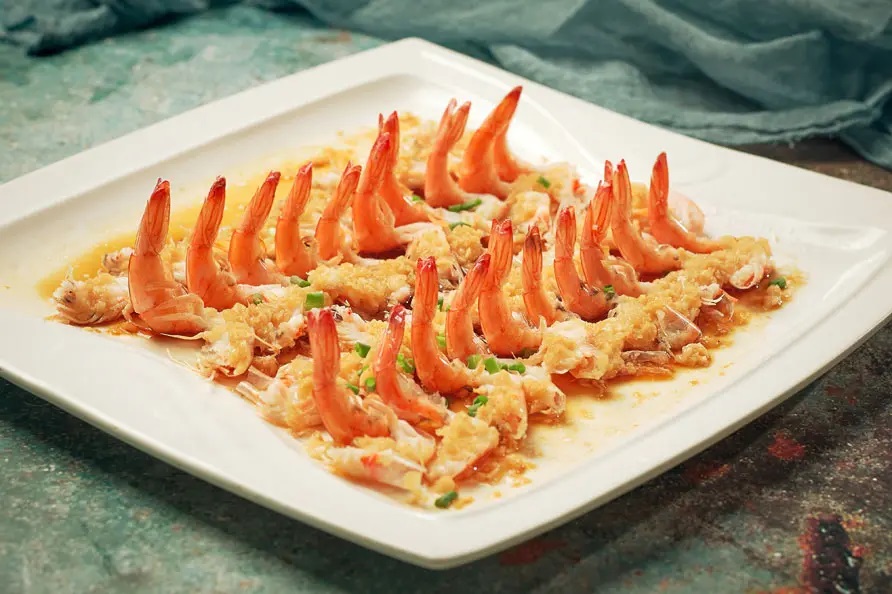 Dumplings
Dumplings (饺子 jiǎozi) consist of minced meat and chopped vegetables wrapped in a thin dough skin. With a long history of more than 1,800 years, dumplings are a traditional food widely popular in North China. Popular fillings are mince pork, diced shrimp, ground chicken, beef, and vegetables. They can be cooked by boiling, steaming, or frying. Dumplings are a traditional dish eaten on Chinese New Year's Eve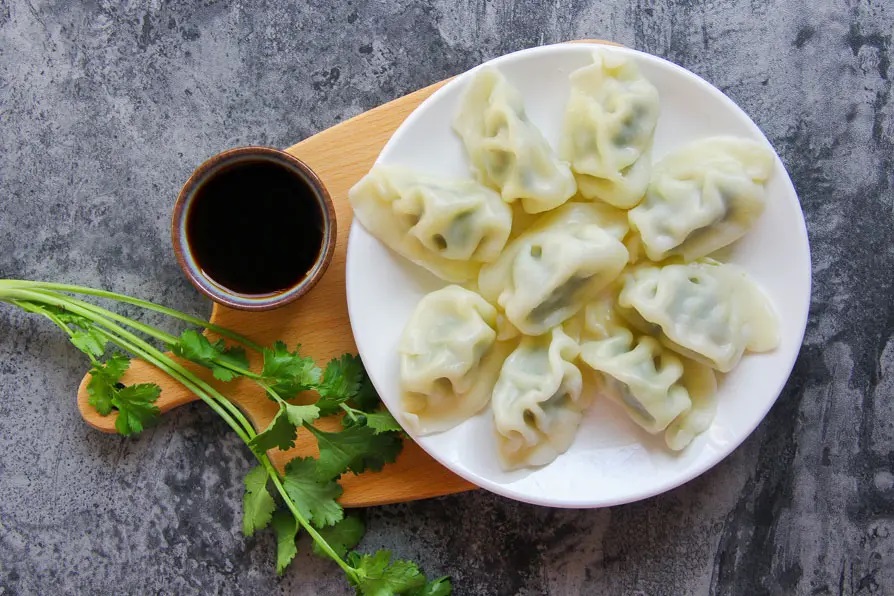 Chow Mein
Chow mein" (炒面 chǎomiàn) is the Cantonese pronunciation of the Chinese characters above, which means stir-fried noodles. Generally speaking, this stir-fried dish consists of noodles, meat (usually chicken, beef, shrimp, or pork), onions and celery. For making chow mein, the noodles need to be cooked in boiling water for a while. After they becoming cool, then move to the step of stir-frying
Peking Roasted Duck
Peking duck (北京烤鸭 Běijīng kǎoyā) is a famous dish from Beijing, enjoying world fame, and considered as one of China's national dishes.Peking duck is savored for its thin and crispy skin. The Sliced Peking duck is often eaten with pancakes, sweet bean sauce, or soy with mashed garlic. It is a must-taste dish in Beijing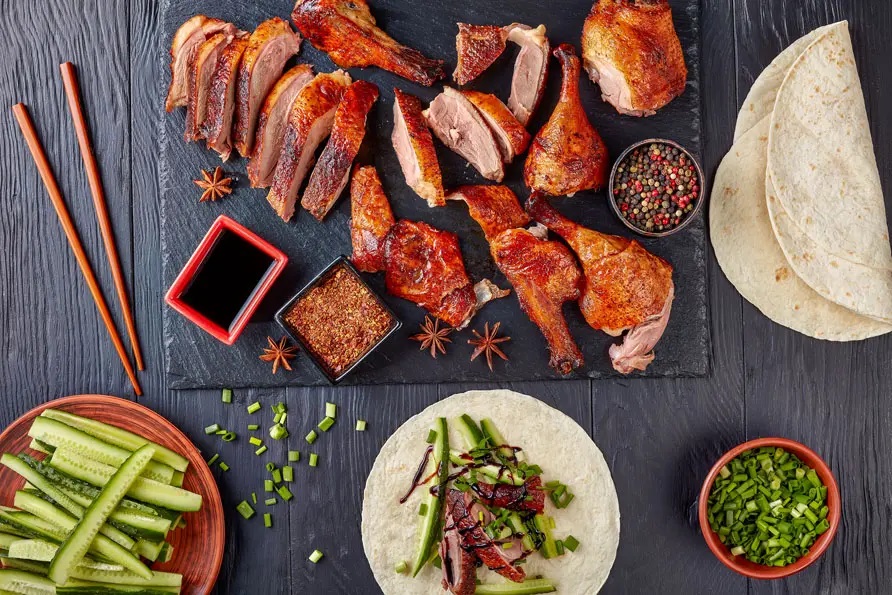 Steamed Vermicelli Rolls
Steamed vermicelli rolls (肠粉 chángfěn) are definitely one of the must-orders of any dim sum meal! They are not only an expert choice in Guangzhou teahouses, morning tea restaurants, and street food night bazaars, but also a delicacy for many people's breakfasts in the rest of China's middle-class restaurants.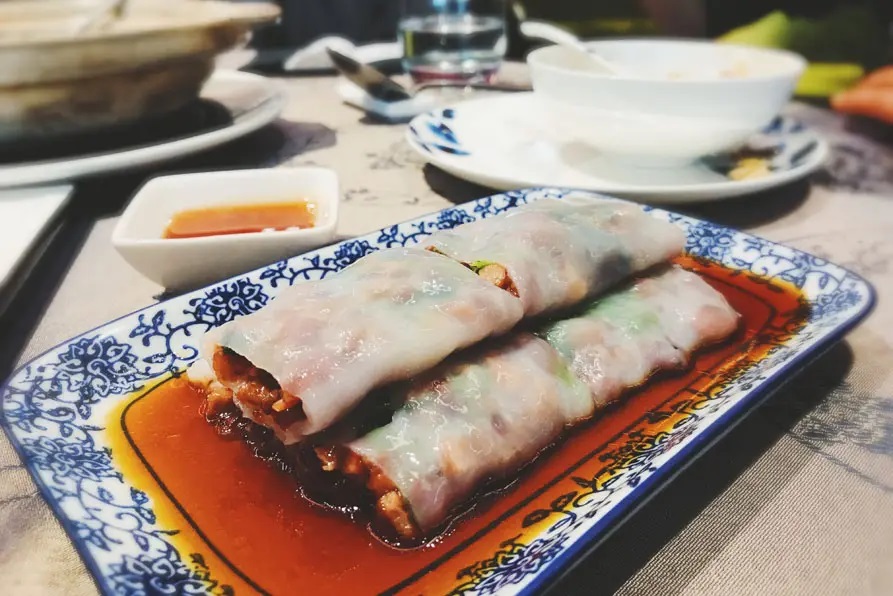 White sheets of rice starch are rolled with various fillings. Some popular choices are beef/pork, shrimp, even oyster, with mushroom, egg, lettuce, watercress etc. The rolls are steamed till all flavors blender together and then sprinkled with cooked peanut oil, raw soy sauce, chili sauce, or sesame paste depending on individual preferences.
Sources:
China Highlight