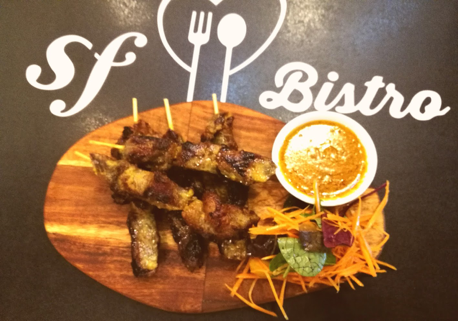 SF Bistro is a comprehensive healthy and green restaurant, a Fusion Food that combines delicious Eastern and Western cuisine, including Chinese, Singaporean, Japanese, Arabic etc. Everything here is delicious and you will enjoy it. SF Bistro serves breakfast and a variety of fresh juices, burgers, spaghetti, baked pasta and Eli's strength. New foods will be launched every week to satisfy the appetite of the food lovers.
Opening Hours: 9:00 am to 10:30 pm
Address: P1 Shop 07, Damac Parktower, DIFC
Contact Number: +971 52 8882880 or +971 55 6165928 or +971 4 2672171
Fame for SF Bistro:
SF Bistro opened in August 2017. Because it is located inside Commercial residence building, most of its guests are office staff and residents nearby. People love foods here a lot, and they often bring in their friends here as well. In addition, the SF Bistro offers reasonable price for friends' gatherings, club activities and small exhibitions and the restaurant environment is elegant and surrounded by a large space. Many activities have been held here before, including the readers' club, the English language corner, the rehearsals of the traditional Clothes Association in Dubai and the Chinese Cheongsam Association in the UAE, and also the Chinese Calligraphy Fair.
SF Bistro offers you the taste of hometown and nostalgic feelings. SF Bistro has different meanings in different people's eyes. In Chinese eyes, SF Bistro means Shunfeng Bistro, Shunfneg meas good luck. That's because the restaurant has special Chinese dishes liked by Chinese, for example, grilled Beijing duck, boiled Hainan chicken, Chinese dumplings, wonton with Chinese noodles, steamed lobster and steamed shrimp.
In the eyes of Singaporeans, SF Bistro is Singapore Food Bistro, because the restaurant has Authentic Singaporean food by General Consulate Singapore, for example, Singaporean Chill crab, Chill Prawns, Laksa, Satay Singaporean noodle soup and Singapore fried noodles.
In the eyes of the Westerners, SF Bistro means San Francisco Bistro Because the restaurant has many western foods to choose, such as pizza, burgers, Spanish paella, Mexican chicken rolls, and French steaks and prawns.
In the eyes of Arabs, SF Bistro means Saudi & Syria Food Bistro, because they find here Saudi & Syrian cuisine, which is the most popular dishes for Arabs. Grilled lamb chops, grilled chicken, beef skewers, Kabbah, Fatush, and roasted broiler chicken, each dish has nice memories.
About the Owner of SF Bistro:
Those who visited SF Bistro called the owner of SF Bistro Teacher Zhang. Teacher Zhang is from Jiangsu Province, China, who has been lived in Dubai for twelve years and is well known to Chinese expatriates in Dubai. She has been working as an advisor to Chinese students who wish to receive education in Dubai in the last 10 years, so she is well known to many Chinese students in Dubai. As she runs a website in Chinese in the UAE, also a Chinese blogger http://www.dibainews.com, and this site has many visitors everyday.
Teacher Zhang has a vast network of contacts. If you are new to Dubai and do not know any persons or places in Dubai, or if you feel tired or bored about work or life, you can come to Teacher Zhang and talk with her like one of your old friends in a delicious environment, you will remove the dark clouds in your heart and you will have a mood good