Screened in theatres of Chinese mainland on 25th Dec,2021, Uzair Zaheer Khan's "Allahyar and the Legend of Markhor", the first animated movie made by joint efforts, held its premiere in Beijing on Sunday. The premiere was the part of the event to commemorate  the 70th Anniversary of diplomatic relations between China and Pakistan.
                   Pakistani Ambassador Moin ul Haque giving his speech at the premiere was of the view that this collaborative effort of both nations is very much significant in Pak-China Diplomatic relationship. He further added that this movie not only highlights the Pakistani Culture but it a shares the important message for youth regarding wildlife and natural resources preservation.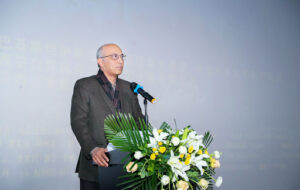 Uzair Zaheer Khan ,the Director and Producer of the movie also hoped that besides entertainment this movie would also provide the significant messages regarding preservation of wildlife.
He expressed his pleasure towards the governments of both countries whose extended efforts made this event possible and thanked " Xi'an Bailu Fenghe Productions ", co-production partners in China who organized the screening of the film.