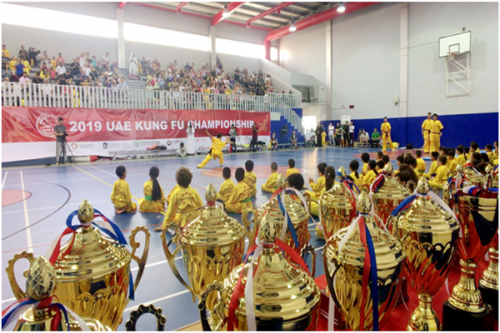 As an important part of traditional Chinese culture, the UAE people have increasingly favored Chinese kung fu in recent years. On April 26, the UAE Kung Fu Championship 2019 was held in Dubai, with some 90 players from China and abroad participating in it.
The tournament is divided into three sections, primary, intermediate and final. It includes players aged between 5 and 15 and has attracted players of different nationalities. Sheikha Meera Al Maktoum, a 10-year-old UAE girl who has been learning Chinese kung fu for three years, said that the practice of Chinese kung fu is not only good for health but also helps to strengthen will.
"Exercising kung fu is useful for my health, through which you can achieve psychological perfection," said Sheikha Meera Al Maktoum, the tournament's player. I learned the self-confidence and Kung Fu strengthed my ability to defend myself, I hope I can get first place with good grades in this contest.
The Chinese community is hosting the 2019 Chinese Kung Fu Championships. The cooperation and cultural exchange between China and the UAE has deepened in recent years through the Belt and Road Initiative. The UAE Kung Fu Championship was dedicated to building the Sino-Arab cultural exchange platform, Chinese traditional culture in the Middle East, and contribute to the promotion of exchanges and mutual learning between different cultures.
"As one of China's four national pillars, we are honored to spread Chinese culture here as well to promote cultural exchanges between China and the Arab countries," said Tsang Xing, organizer of the tournament. I hope to hold international events in the future and invite Kung Fu talents from all over the world to gather in Dubai to conduct arts exchange for Kung Fu and other cultures.